It is no secret that before 1978 those of African descent could not hold the priesthood in The Church of Jesus Christ of Latter-day Saints. (It is technically wrong to say that "blacks could not hold the priesthood," as non-African blacks could hold the priesthood before 1978.) People of all races could belong to the Church, but withholding the priesthood from one group of people based on their race stopped them from participating in the ultimate ordinances offered by the Church for both individuals and families.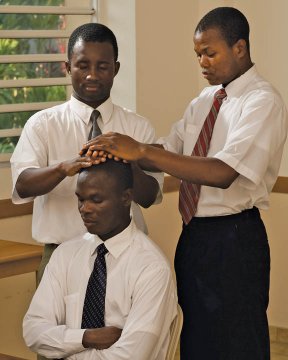 This fact has led many to call Mormons racist. The charge isn't heard as much today as it was during my earlier life, but it still exists. Discussions around this point and issues related to the priesthood ban have been the topics of articles, essays, discussions, seminars, and books for generations. There have been many theories proffered for both the inception and ending of the ban, and no doubt there will be many for years to come. (The history of blacks within the Church is fascinating and, at times, painful to read.)
Recently (within the past few days) the Church published an article on its website entitled Race and the Priesthood. It is worth a read, as it very clearly and succinctly lays out the facts surrounding the ban and, more importantly, the Church's current position relative to race and racism.
I am particularly encouraged by this paragraph from the article:
Today, the Church disavows the theories advanced in the past that black skin is a sign of divine disfavor or curse, or that it reflects actions in a premortal life; that mixed-race marriages are a sin; or that blacks or people of any other race or ethnicity are inferior in any way to anyone else. Church leaders today unequivocally condemn all racism, past and present, in any form.
In a single paragraph—only 68 words—the Church has finally, gratefully, and (hopefully) permanently put an end to some ugly theories about the races that are periodically proffered by otherwise well-intentioned people.
The final sentence of that paragraph is also very interesting if you think about it. It means that any past racism—which would, by definition and by specification of "any form" include racist statements and actions by past Church leaders—is "unequivocally condemned" by the Church today. This marks the formalization of comments along this line made in April 2006 by President Hinckley:
I remind you that no man who makes disparaging remarks concerning those of another race can consider himself a true disciple of Christ. Nor can he consider himself to be in harmony with the teachings of the Church of Christ. How can any man holding the Melchizedek Priesthood arrogantly assume that he is eligible for the priesthood whereas another who lives a righteous life but whose skin is of a different color is ineligible?
I, for one, applaud the straight talk and the appearance of this article. I hope it is widely shared by Saints everywhere.