A couple of days ago I read an article that appeared in a blog for the Salt Lake Tribune. About a year ago you may remember that there was a "Wear Pants to Church Day" that was organized in an effort to "celebrate inclusiveness in the LDS Church." The article on the Trib's blog highlighted a recent decision by last year's organizers to sponsor the second annual version of the event for December 15, 2013.
I've been trying to figure out why I'm a bit peeved by this. I shouldn't be, I guess. I really don't care if people wear pants to church. Male, female, child, hedgehog—doesn't matter to me what they wear. (The hedgehog might make a good post someday. We'll see.) When I was a bishop, I didn't care how people came to church; I just wanted them there to worship with the Saints.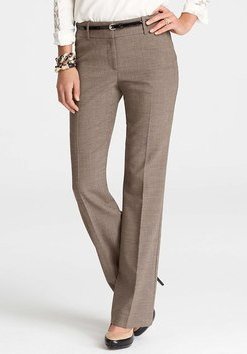 According to the organizers' website, the purpose of the day is to foster inclusiveness and (apparently) signify solidarity in that effort. In their words, "we believe that everyone is welcome at Church."
In fact, they make it a point on the website to quote words of apostles and other general authorities toward that end. M. Russell Ballard's words stress how everyone is needed at Church. Chieko Okazaki states we need to rejoice in our diversity. These are all great thoughts, and therefore worthy of our support.
And that's when it hit me. Why I was a bit peeved. I don't mind leaders stating the obvious about how we are all needed and how diversity is good. After all, I experienced that first-hand as a bishop as I tried to get a huge diversity of people into the pews.
What I do mind is those sentiments being co-opted and tokenized by people who aren't my leaders. Elder Ballard says "your talents, strengths, and contributions are needed urgently in the Church," and some organizers say "let's use our talents, show our strength, and contribute to the conversation by wearing pants to Church on a specific Sunday." Somehow that seems disingenuous.
Further, why would the announcement of the second annual Wear Pants to Church Day (to "show there is more than one way to be a good Mormon woman" because "we believe that everyone is welcome at church") be newsworthy, but the Church leaders' exhortations about that need that were used by the organizers was not considered newsworthy when first uttered? It seems a bit odd that Chieko Okazaki saying that everyone is needed at Church receives absolutely no notice in the news, but setting up a day to wear pants to show that everyone is needed at Church is newsworthy.
(As Arsenio Hall used to say, "Things that make you go 'hmmmm.'")
I strongly suspect—although it is not overtly stated on the website—that the Wear Pants to Church Day is a form of nonviolent resistance, defined as "the practice of achieving goals through symbolic protests…and other methods, without using violence." The organizers want to change something they feel needs changing, and it is as if they believe that the preaching of inclusiveness from the pulpit is not enough. Instead, members need to do something out of the ordinary—something noticeable—to make a real difference.
Wearing pants is a symbolic gesture that does nothing, ultimately, to further inclusiveness. If the organizers wanted to make a real statement about celebrating inclusiveness, why not organize a "bring your neighbor to church (no matter what they are wearing) day?" Wouldn't bringing others be inherent in the definition of "inclusive?"
A post on the organizers' website (from Noelle) rightfully praised Sister Virginia Perry for enveloping a sister in love, even though the sister didn't dress the same as others at church. Rather than the organizers asking people already attending to dress differently, why not invite others to come so they (and members) have the opportunity to experience the love that Sister Perry exemplified? Why promote symbol over real substance?
I'm reminded of a passage from a book by C.S. Lewis where he talks about introducing novelty into religious expression at church meetings. (I believe that calling for the wearing of out-of-the-ordinary clothing on a particular day counts as novelty, no?) He states:
A still worse thing may happen. Novelty may fix our attention not even on the service but on the celebrant. You know what I mean. Try as one may to exclude it, the question "What on earth is he up to now?" will intrude. It lays one's decision waste. There is really some excuse for the man who said, "I wish they'd remember that the charge to Peter was Feed my sheep; not Try experiments on my rats, or even, Teach my performing dogs new tricks." (Letters to Malcolm Chiefly on Prayer, pg. 5.)
If the organizers of Wear Pants to Church Day want to focus attention on the celebrant rather than on Him who should be the real focus of our worship service, then they seem to be achieving their goal. If they want, instead, to help people be more inclusive, there are better ways to do it—including following the advice of Church leaders who have been preaching inclusiveness for generations.
On December 15 I won't be engaging in a symbolic gesture proposed by a news-grabbing website. Instead, I'll be doing what I do every other Sunday—serving the Lord and doing my best to make everyone feel welcome and included at church.